On top,
picture of one of our Jeep Cherokee cargo nets holding back the gear for a weekend camping trip. On the bottom, o
ur Jeep Cherokee cargo net keeps gear from spilling over the rear seat when you put on the brakes.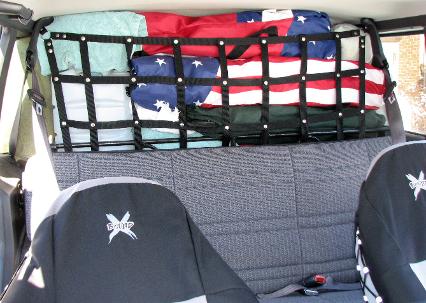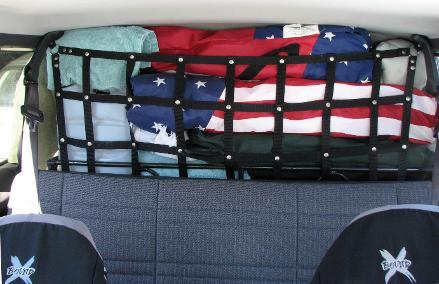 Costumers'

f

eedback

:
Joseph from Texas: "Thank you for the fast shipping. Install was a breeze and I love the net. Hopefully it will keep my great dane out of my backseat!"
Abdullah from Saudi Arabia: "Finally had it installed, it was one of the easiest jobs I did and it looks great."
Clark from Texas: "I recently purchased a TrailTuff net for my XJ as part of a cargo bay overhaul in my 98 XJ. The TrailTuff net is obviously of sturdy quality and the simple instructions made installation a quick job. Now I can stack camping gear all the way to the ceiling without having it spill over into the back seat! If I need to stow the net temporarily to fold down the rear seat and haul a large item, I can detach it from the lower mounts quickly and roll it up towards the ceiling.
Shipping was fast, instructions were clear, pricing was good, product is solid, made in USA by a small family business... it doesn't get any better than this. Thanks TrailTuff!
Jeff from Michigan: "Thank you for the quick reply. ABSOLUTELY LOVE IT!"
Chris from Oregon: "Very very pleased with the quick shipping. Here are a few pictures of the net installed."
Steve from California: "The net is perfect since we jeep in some rough country and stuff was sliding onto our dog.... no more!"
Brandon: "Here are a few pics of my net installed. Really happy with the fit. Super stoked on the final look and function if cargo comes loose while wheeling. Let me know if you decide to post them. Always like to brag to my buds when our rigs make it on websites."
Jonas from Germany: "I just installed the net and i am very happy with the quality. It's a very robust design. Installation was no problem. Fits right into my '99 XJ. Thank you for all the effort you put in to make it possible to send me the net. That's an outstanding customer support."
Cooper from Texas: "Hey just got the net installed! Looks amazing! Thanks so much for everything!"
Luke from Arizona: "Thanks for the product. Really like the way it works and functions in my jeep. Plus it looks bad ass!"
Henry from Colorado: "Thank you for the fast delivery and great product here some pic of it install thank you again I will order another one soon."
Matt from Washington: "Here one pic for you guys will send a few more. Net worked great, kept the gear in the cargo area."
Stephanie from California: "I bought this for my husband for father's day. It's our second XJ and this net was on the top of our list to get and install! Keeps the children safe during grocery shopping and trail weekends! Thanks for such a great, affordable net! Our only complaint is we with it was quick release. Otherwise, excellent product! We get tons of compliments and send them to you guys! "
Gareth from California: "I finally had time to install, and I love it. Very well made!!! You guys should make more interior XJ stuff, it's needed."
Dick from Vancouver, BC: "I received the net yesterday. I am very happy with the purchase. Easy to install and no modifications to vehicle are needed. As per your request I attaching some pictures of the installed product in my Jeep. If you need more specific pictures let me know. "
Pictures sent to us by customers: