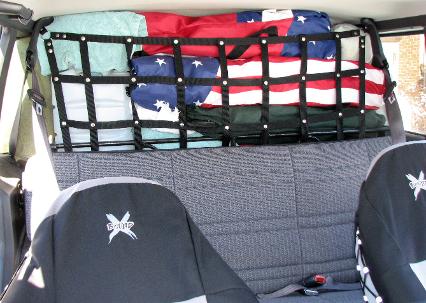 On top, picture of one of our Jeep Cherokee cargo nets holding back the gear for a weekend camping trip. On the bottom, our Jeep Cherokee cargo net keeps gear from spilling over the rear seat when you put on the brakes.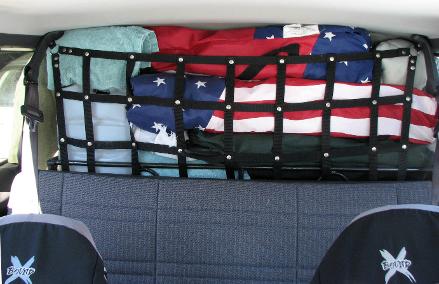 Costumers' feedback:
Joseph from Cypress, Texas: "Thank you for the fast shipping. Install was a breeze and I love the net. Hopefully it will keep my great dane out of my backseat!"
Abdullah from Saudi Arabia: "Finally had it installed, it was one of the easiest jobs I did and it looks great."
Clark from Texas: "I recently purchased a TrailTuff net for my XJ as part of a cargo bay overhaul in my 98 XJ. The TrailTuff net is obviously of sturdy quality and the simple instructions made installation a quick job. Now I can stack camping gear all the way to the ceiling without having it spill over into the back seat! If I need to stow the net temporarily to fold down the rear seat and haul a large item, I can detach it from the lower mounts quickly and roll it up towards the ceiling.
Shipping was fast, instructions were clear, pricing was good, product is solid, made in USA by a small family business... it doesn't get any better than this. Thanks TrailTuff!
Jeff from Michigan: "Thank you for the quick reply. ABSOLUTELY LOVE IT!"
Chris from Oregon: "Very very pleased with the quick shipping. Here are a few pictures of the net installed."
Steve from California said, "The net is perfect since we jeep in some rough country and stuff was sliding onto our dog.... no more!"